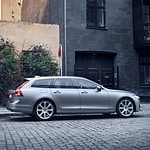 One of the most popular luxury wagons available today is the Volvo V90. This is the vehicle of choice when you want to have lots of space and the performance of a luxury car. Here's a look at some of the performance features that make the V90 so popular.
Spirited Standard Engine
The Volvo V90 comes standard with a 2.0-liter engine that gives you up to 250 horsepower. This engine allows the Volvo V90 to go from 0 to 60 miles per hour in just 6 seconds.
Read More